Canadians enjoy freedom of expression, equal protection from discrimination and the right to life, liberty and security under the Charter of Rights and Freedoms. They do not, however, have the right to drink clean water, breathe clean air or simply live on clean land.
The right to a healthy environment is explicitly recognized as a constitutional right in more than 100 countries all over the world. CANSEE joins David Suzuki and his Foundation on the Blue Dot Tour as part of the movement to see the right to a healthy environment become a fundamental one in Canada.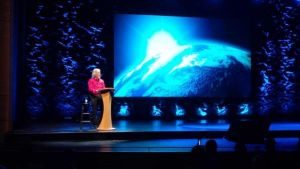 The biggest obstacle to enshrining the right to a healthy environment in the Canadian Charter is likely the argument that it will cause economic hardship. For many commentators there is a perceived conflict between the health of the environment and the health of the economy. But this is a false conflict.
How can we rethink economics for a better environment?
CANSEE members, students, scholars and practitioners are working on solutions to the current system to provide healthy environmental outcomes. As ecological economists we would like to propose the following five priorities for reconciling environment and economy and creating a 'Blue Dot' approach to economics:
Allocate scarce resources to achieve the maximum of well-being with the minimum amount of energy and material throughout
Recognize that the economy is a means to an end, not an end in and of itself
Remove GDP growth as a policy objective
Track the natural wealth of our nation
Reveal ideology disguised as economics
CANSEE supported the Blue Dot Tour's campaign on the road in Richmond Hill, Ottawa, Calgary and Regina.
CANSEE's Vice President of Research and Education Brett Dolter also delivered a speech on how "Economics has reached a new frontier" in Saskatoon on October 26th2014. He has published a piece with David Suzuki in the Edmonton Journal.
For more info on The Blue Dot Tour and David Suzuki's Foundation, please go to www.bluedot.ca and www.davidzuzki.org
Please also check out the Blue Dot Tour's YouTube spot as well.