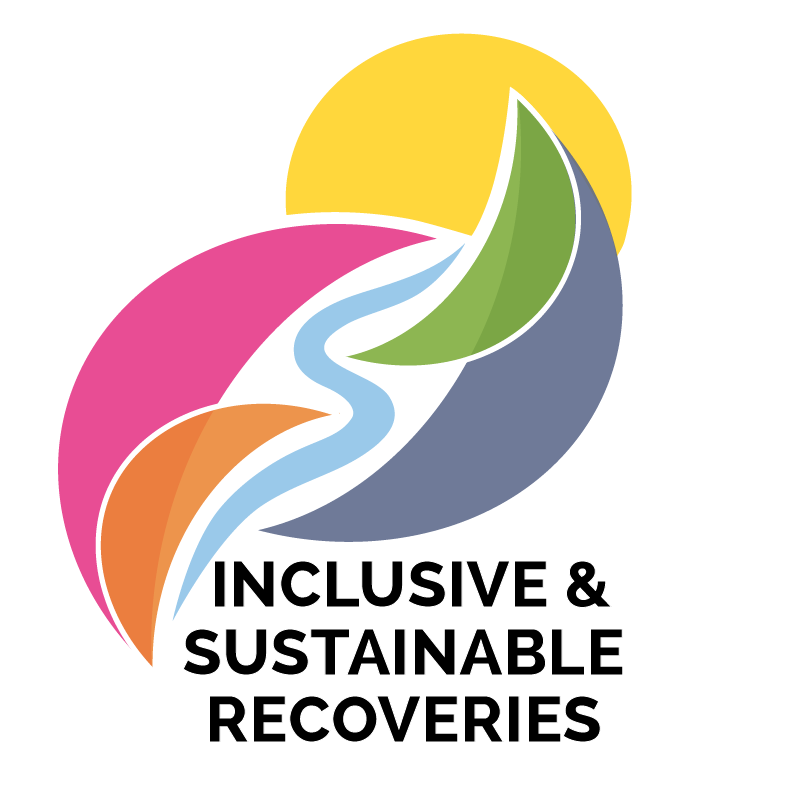 CANSEE 2021 isn't your typical conference. We're calling scholars, activists, educators, civil servants, business leaders and change-makers alike to explore Pathways for Inclusive and Sustainable Recoveries. Participants are coming from various backgrounds, have different perspectives, but will all be here to have deep and honest conversations about creating societal change. This will likely result in conversations about sensitive topics. At our last conference, your peers (or maybe even you) helped develop the following guidelines to foster a brave space where everyone feels valued and accepted for who they are.
---
Guideline #1: Respect Differences
Welcome and value diverse perspectives and identities. Take responsibility for the intent and impact of your words, recognizing your privilege.
Guideline #2: Listen Attentively
Challenge yourself to listen more than you speak. Actively listen to understand before you respond.
Guideline #3: Speak Thoughtfully
Be clear and concise, and avoid technical jargon. Please be considerate of sharing time during both presentations and question periods.
Guideline #4: Be Willing to Learn
Acknowledge your values and visions, but be ready to have them challenged. Assume good intentions in others. Exercise compassion in challenging others' ideas.
Guideline #5: Be Open to Discomfort
Conversations about sensitive topics are challenging, but avoidance makes the issues grow. Inclusive and sustainable recoveries will require disruptive thinking beyond comfort zones.
Guideline #6: Recognize Social Dynamics
Keep conversations open. Everyone should feel welcome, but not forced, to join. Make and protect space for marginalized people.
Guideline #7: Respect Your Needs
Be gentle with yourself. Feel free to follow the needs that may spontaneously arise (e.g., time alone to decompress, conversations outside the panels, etc.).
Event Code of Conduct & Anti-Harassment Policy
We believe our online spaces, just like our physical spaces, should be free from harassment, bullying or hate. Our online spaces should be safe for all those using them, and everyone who participates in an online space has a responsibility to help us achieve this.
All attendees, speakers, hosts and volunteers at our online events are required to agree with the following code of conduct and policy. We will enforce this code and policy throughout the event and we expect cooperation from all participants to help ensure a safe environment for everybody.
Acceptable behaviour starts with you:
Be excellent to each other. We want the event to be an excellent experience for everyone regardless of gender identity and expression, sexual orientation, disabilities, neurodiversity, physical appearance, body size, ethnicity, nationality, race, age, religion, or other protected category. Treat everyone with respect. Participate while acknowledging that everyone deserves to be here — and each of us has the right to enjoy our experience without fear of harassment, discrimination, or condescension, whether blatant or via micro-aggressions.
Speak up if you see or hear something. Harassment is not tolerated, and you are empowered to politely engage when you or others are disrespected. The person making you feel uncomfortable may not be aware of what they are doing, and politely bringing their behavior to their attention is encouraged. If a participant engages in harassing or uncomfortable behavior, the event organizers may take any action they deem appropriate, including warning or expelling the offender from the event with no refund. If you are being harassed or feel uncomfortable, notice that someone else is being harassed, or have any other concerns, please contact a member of the event staff immediately.
Unacceptable behavior is not tolerated. Unacceptable behavior includes, but is not limited to, the following:
Harassment, intimidation, or discrimination in any form. Harassment includes, but is not limited to: verbal language that reinforces social structures of domination related to gender identity and expression, sexual orientation, disabilities, neurodiversity, physical appearance, body size, ethnicity, nationality, race, age, religion, or other protected category; sexual imagery in public spaces; deliberate intimidation; stalking; following; harassing photography or recording; sustained disruption of talks or other events; offensive verbal language; and unwelcome sexual attention. Participants asked to stop any harassing behavior are expected to comply immediately.
Verbal abuse of any attendee, speaker, exhibitor/sponsor, CANSEE staff or committee members, service provider, or another event guest. Examples of verbal abuse include but are not limited to, verbal/written/visual comments related to gender, sexual orientation, disability, physical appearance, body size, race, religion, national origin, inappropriate use of nudity and/or sexual images in public spaces or in presentations, or threatening or stalking any attendee, speaker, exhibitor/sponsor, CANSEE staff/committee members, service provider, or other meeting guests.
Disruption of presentations during sessions or events throughout the virtual experience. All participants must comply with the instructions of the moderator and any CANSEE virtual event staff.
Presentations, postings, and messages should not contain promotional materials, special offers, job offers, product announcements, or solicitation for services. CANSEE reserves the right to remove such messages and potentially ban sources of those solicitations.
Participants should not copy or take screenshots of Q&A or any chat room activity that takes place in the virtual space.
Consequences of Unacceptable Behavior
CANSEE reserves the right to take action as deemed necessary and appropriate, including immediate removal from the virtual conference without warning or refund, in response to any incident of unacceptable behavior, and CANSEE reserves the right to prohibit attendance at any future meeting, virtually or in person.